ARB 4X4 Culture Magazine
Australia's number one FREE off road magazine is created, designed and developed by our ARB marketing team in our Melbourne head office. Released three times a year, 4×4 Culture magazine features the latest ARB products, off road travel articles, advice, competitions, Fourby's kids section, the latest 4WD tips and tricks and of course glorifying articles about the 4×4 off road culture.
4×4 Culture is the freedom that comes from leaving the city behind, escaping to your secret location and disconnecting from the nine to five. It encompasses the adventure, the people and the unforgettable memories made along the way. Read your 4×4 Culture mag today and celebrate the unmatched diversity and breadth of our passion for off road adventure.
Play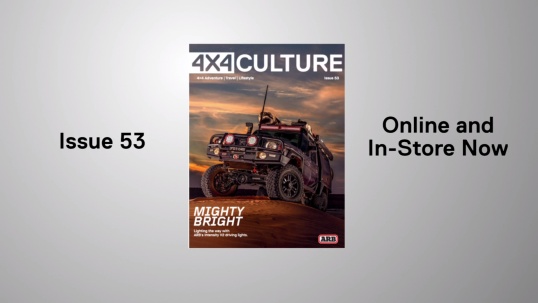 Issue 53: Sneak Peek
The latest Issue of 4×4 Culture has arrived!
Issue 53 introduces ARB's exciting new Intensity V2 LED driving lights. We also take a behind-the-scenes look at the Jeep JL Wrangler development and reveal the lengths our engineering  department go to to ensure vehicle-specific products are ready for market.
This issue also details the Mighty 79 Build and updated modules for LINX. We travel all over Australia, from Tasmania with Emma George to NT with Trip in a Van via WA with Steve Fraser.
View the current issue
Check out the most recent issue of ARB 4x4 Culture
VIEW THE CURRENT ISSUE
Read past Issues of 4x4 Culture
Read online or download our past issues of ARB 4x4 Culture.
View past issues
Subscribe to ARB Mag
Subscribe to your free copy of our ARB 4x4 Magazine
Subscribe to ARB