Play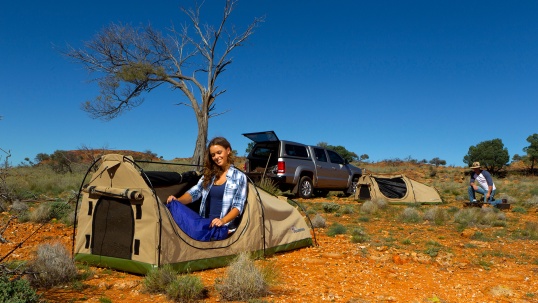 ARB SkyDome Swag
Incorporating the latest in swag design and comfort, the ARB SkyDome swags have been designed from the ground up to meet the exact needs of 4WDers and tourers alike.
Over the years, the humble swag has evolved from a simple sheet of canvas to a tapered design, and more recently to dome-shaped structures. This evolution continues with the unique configuration of the ARB SkyDome swag.
Built for maximum livability
To counter the claustrophobic feeling caused by some swags, ARB's SkyDome range has been designed with very generous dimensions. The industry-leading height from head to hip allows occupants to move around freely and spread out without feelings of confinement.
The large mesh areas provide excellent ventilation to reduce internal condensation, with additional canvas flaps and insect-proof mesh in the roof zone of the Series II improving cross-flow ventilation to enhance airflow and make it cooler and even more comfortable during warmer nights.
The freestanding architecture means ARB SkyDome swags require no pegs or guy ropes when deployed on flat surfaces. Matched with waterproof materials and a high-density corrugated 75mm foam mattress, the SkyDome will ensure a dry and comfortable night's sleep in any conditions.
The SkyDome range includes both single and double configurations and can be purchased with the optional Boot Swag to keep footwear and other gear dry and away from the elements.
Read More
View Series II Features & Specifications
SkyDome Series II External Features
Lightweight Bows
Durable, elasticised 11mm aluminium bows for easy assembly and storage.
Lightweight Bows
Durable, elasticised 11mm aluminium bows for easy assembly and storage.
Made Tough
Heavy Duty 500gsm water and rot proofed canvas, fully tested to meet Australian standards.
Waterproof Base
970gsm PVC base with 75mm high return tub for protection against water ingress. As a second defence corners are welded and sealed and PVC anchor tabs are used to prevent water wicking through the seams.
Brass Eyelets
Nickel plated brass eyelets for corrosion protection.
YKK Zips
All doors and windows feature YKK zips, while a rain gutter is integrated into the main entry door to inhibit water ingress.
Large Entry
Ultra fine Nylon mesh inner door provides easy access, excellent ventillation, insect free sleeping and exceptional view of the nights sky.
Improved Air Ventilation
Featuring additional canvas flaps and insect-proof mesh in the roof zone, the SkyDome Series II provides enhanced airflow for increased comfort on those warmer nights.
Rain Gutter Protected Windows and Vents
Keeping the swag waterproof, our unique rain guides ensure water is guided away from the zipper.
Internal Features
Comfortable Mattress
Spacious Interior
Hat Holder
Integrated Pockets
ARB Swag Bag
Part of the range of Cargo Bags providing outstanding protection against the elements, ARB Swag Bags are the perfect way to store your Skydome Swag. Like the storm bag, the Swag Bag features moulded rubber carry handles on either end along with a removable shoulder strap. Available in two sizes (small and large), it also features four adjustable tie down straps integrated into the bag to allow it to be secured to a roof rack without need for additional straps.
ARB DELUXE CANVAS SLEEPING BAG
The ARB deluxe canvas sleeping bag design offers more room to move comfortably inside the bag, as well as having a removable internal fleece liner for the cooler nights and easy cleaning.
Need one for your partner?  Join two ARB deluxe bags together to form a double bag to keep you warm on those cooler nights, with a rating to -10°C.
ARB BootSwag
Keep your shoes protected from the harsh outback elements with the ARB BootSwag. Designed to be placed alongside your SkyDome swag or at the base of your rooftop tent ladder, the BootSwag provides a sheltered enclosure for storage of footwear and other items.
The base and mat are made of the same PVC material as the swag base, whilst the dome section is made from Oxford fabric as seen in the ARB rooftop tent.