Play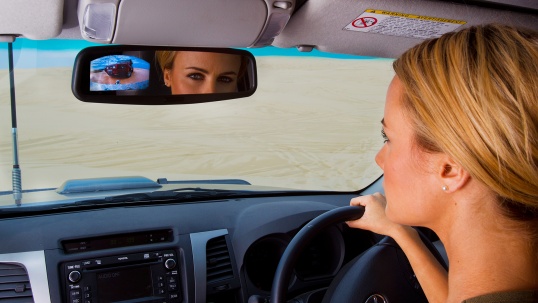 ARB Reversing Camera and Monitor Range
Offering exceptional reversing visibility in any circumstance, ARB's range of reversing cameras and monitoring systems increase vehicle safety and help take the stress out of reversing.
ARB's reversing camera and monitoring systems, trailer camera kits and auxiliary cameras extend the driver's vision to the rear, side, roof or front of the vehicle, providing all round safety and increased visibility.
Designed with flexibility and superior performance in mind, there is a multitude of options to suit, dependent on your intended application.
Reversing Cameras and Monitor System
Designed to improve visibility at the rear of your van, 2WD or 4WD, the reversing camera and monitor system is perfect for reversing in tight places, residential areas or connecting a trailer, camper or caravan to your vehicle.
Features
Replacement rear view mirror incorporates high resolution 3.5″ OLED screen and speaker
OLED screen automatically activates when vehicle is in reverse manual activation via rear view mirror button allows full time vision
System incorporates a quality CMOS camera with inbuilt microphone and 160 degree wide angle lens
Camera is dustproof and waterproof to IP68 rating metre wiring loom suitable for commercial vehicles and wagons
Unique licence plate mounting bracket for camera utilises existing fasteners
Two camera inputs allows the option of fitting an additional auxiliary camera
ARB reversing camera compatible with the Hema Navigator systems (please contact ARB for fitting information and requirements)
3 year warranty
View Camera Specifications
View Monitor Specifications
Auxiliary Camera
This auxiliary camera is ideal for those who wish to fit a second camera to their existing ARB reversing camera and monitor system for increased visibility and flexibility in a range of situations.
Features
Quality CMOS camera with inbuilt microphone and 160 degree wide angle lens
Dustproof and waterproof to IP68 rating
6.5 metre cable length ensures versatile camera location on the front or rear of vehicle
Unique licence plate mount bracket utilises existing fasteners
Compatible with a range of NTSC monitor systems, including ARB models
3 year warranty
Auxiliary Infrared Camera
Ideal for both night and day driving, this auxiliary infrared camera from ARB provides enhanced visibility in low light conditions.
Complete with infrared sensors, this camera provides for up to 10 metres of vision in dark conditions when vision is at its lowest.
Features
Fully compatible with ARB's reversing camera and monitor system and trailer camera kit (sold separately)
Quality Sony CCD imager with inbuilt microphone is designed to work effectively in all environments
Infrared distance of 10 metres for vision at night
Heavy duty mounting bracket ensures camera can be rotated 120 degrees for optimal view
Strong, powder coated aluminium housing
Adjustable visor for glare reduction
Dustproof and waterproof to IP68 rating
Heavy duty waterproof cords and connectors
6.5 metre cord ensures versatile camera location
3 year warranty
Trailer Camera Kit
Perfect for tourers, the ARB trailer camera kit is designed as a 'bolt on' accessory for the ARB reversing camera and monitor system. This kit provides users with rear vision from the camper, caravan or trailer.
Features
Plug-n-play system delivers rear view camera capabilities to a range of trailers
Fully compatible with ARB's reversing camera and monitor system (sold separately)
Activation of the trailer camera automatically overrides the vehicle camera when the trailer cords are connected
Quality Sony CCD imager with inbuilt microphone designed to work effectively in all environments
Heavy duty mounting bracket ensures camera can be rotated 120 degrees for optimal view
Strong, powder coated aluminium housing
Adjustable visor for glare reduction
Dustproof and waterproof to IP68 rating
Infrared distance of up to 10 metres for vision at night
Heavy duty waterproof cords and connectors
15 metre cord to cater for a vast array of trailers/campers/caravans
3 year warranty
View Trailer Camera Specifications
View Installation Kit Specifications